Visit the Colosseum
Once a spectacular arena where gladiator fights and animal hunts were held, the Colosseum now reminds us how far we've come and showcases the masterful craftsmanship and architecture of the ancient Roman era. To learn more about the Colosseum, you can opt for a guided tour of special areas such as the Underground! This area was where gladiators stood, anxious, sweating, waiting their turn to enter the Arena and fight to the death. Book a Colosseum and Ancient Rome Family Tour for Kids for a full experience.
Take a private tour for kids with a gelato and pizza
Take a fascinating and fun tour of the city center of Rome after sunset led by a specialized local guide. You will visit some of the city's highlights including the Trevi Fountain, Pantheon, Piazza Navona, Marcus Aurelius Column and much more! A delicious but also meaningful tour for the family
Visit the State Police Car Museum
If you are a car or motorcycle fan and happen to be in Rome you owe it to yourself to check out this gem of a place. Tucked away in the south of the main "tourist" area of ​​Rome, you certainly wouldn't find this place by accident. Rome's Police Car Museum deserves more traction. Footnote; there is little to no English info in the museum and the staff don't really speak it either, but don't let that put you off. They are super nice and help as best they can. I hope this helps someone make the decision to watch it. There are many cars you rarely see, including an armored DeTomaso Deauville, Fiat 618CM, and a Lancia Artena Series III , furthermore there are a bunch of policemotors and you can even sit on one and make some photos. Find route information here
Visit the Roman forum with or without audio guide
Remnants of the Roman Empire are everywhere in the Eternal City of Rome, but the Roman Forum takes the cake. There you will walk among a large number of ruins of what were once important temples, legal buildings or houses. It is really interested to see for you but also worth a visit for the kids.
After the fall of the Roman Empire, these buildings were no longer used and today only ruins remain, but the Roman Forum is one of the most important archaeological sites in Rome. Be sure to wear comfortable shoes! The Roman road surface was nowhere near asphalt, so visiting the Roman Forum in high heels is not a good idea. Not that you have to wear your best hiking boots…
There is little shade to cool off in, so bring plenty of water. If you really suffer from the sun quickly, you can always bring an umbrella. Also good sun cream… You can explore the Roman Forum by yourself or make it a little bit more special and use for a couple euros an audio guide.
Kid friendly Vatican Tour
Who says visiting old places should be boring?
There is a lot of ancient history to think about and appreciate when visiting the Vatican, as well as more modern history such as the annexation of Rome and the confiscation of church property in the 1800s. This was followed by the Lateran Treaties in 1929, and then the Vatican's involvement in World War II. If you enjoy learning and absorbing information, a tour of a Vatican Museum is for you. The Vatican Museums are spread over 1,400 halls and contain artifacts and works of art dating back more than 3,000 years.
Must-see parts of the Vatican museums include the Gallery of Maps (the ceiling is heavily decorated, and there are 40 beautiful maps lining the walls), all art by artists like Giotto, Raphael and more, and the Gregorian Egyptian Museum which houses an incredible amount of antiquities. Vatican City is also a fantastic learning opportunity for children, both young and older. It's a great way to expose them to art, architecture, history and religion all in one place. This means you can nurture their interests and help them understand how much there is to appreciate about the world we live in. You can optimize your visit to participate in a kid friendly Vatican tour
Do a self guided Haunted city hunt and walking tour around Rome
For only 6 euros you can do this tour on your own. A Haunted city hunt and walking tour, a playful way to explore Rome with your kids. Embark on a quest around Rome by solving clues to discover the stories of the most popular ghosts in the city, all on your smartphone. Unlock haunted places as you explore the Piazza Navona, Castel Sant Angelo, Campo dei Fiori, and more. Your kids will love it! Book the tour here
Visit the Luneur Attractionpark
I have been here multiple times and my son celebrated his birthday here. They have a lot of rides It is wonderful place in Rome, a little bit outside the center. This park is very fun for children under 12 years of age and their families, a park that combines creativity and colors with games, as it is a magical oasis surrounded by green spaces, extending to about 7 hectares filled with trees, plants and flowers of all kinds. The park also offers many services designed for young children and several dining areas to stop and enjoy lunch or dinner. Some of the attractions ; miniscooters, rollercoasters, swings, carrousels etc . Be aware that most people here do not speak English
Vatican Museum and Sistene Chapel Escape Game
Not done playing games yet? Here is another one, an escape game in the middle of Vatican Museum and the Sistene Chapel. For only 3 euros you can play this game during your stay in Rome. Discover The Vatican Museum and the Sistine Chapel in a unique way by solving challenges and unlocking stories on your phone. Play this engaging exploration game, by letting your kids play the role of Detective Riddle. Show them museums can also be fun 🙂
Visit the Leonardo da Vinci Exhibition
expensive, which is entirely appropriate given the size of the museum. Major focus is on the inventions of Leonardo da Vinci. Many replicas are on display showing how his theories were transformed into real structures, many were movable, interactive and showcase his pioneering ideas. The walls are largely covered with photographs and posters of his drawings, which illustrate the human body in detail.
As last, a film is presented illustrating the development of the Vitruvian man. It explains his basic ideas and thoughts. It is a very lively museum, where they try to illustrate as many ideas and concepts as possible, conceived and applied by Leonardo da Vinci. Based on the small size of the museum, you don't need much time to visit it. But it's a nice exhibit. Want to skip the line? Book your tickets in advance.
Visit the scary Catacombs of St. Callixtus
They were the official cemeteries of the Christian community of Rome in the third century. About half a million Christians, dozens of martyrs and sixteen popes were buried here.
They were named after the deacon Callixtus, who was entrusted with the management of the cemetery by Pope Zeferinus at the beginning of the third century. Want to buy your tickets in advance with a guided tour? You can book it here
The management of the catacombs has been entrusted to the Salesians of Don Bosco since 1930. The Christians of Rome began to excavate their own communal cemeteries (known today as 'catacombs') from the middle of the second century, when some wealthy families who had converted to Christianity, made their grounds available to the Christian community.
Take the Hop On and Hop off Bus to explore the city
Not in the mood to walk too long or traveling with toddlers who find busses already super awesome? Than this is a great way to explore the city; take a Hop on and Hop off Bus!
Rent a e Bike to explore the Ancient Rome with your family
Want an active vacation in Rome? Than I would recommend you to rent an E Bike to explore Rome. Visit the city center highlights while you and your kids bike around
Take a splash at Hydromania
There are pools, high-speed slides with tunnels to fly through and bowls that leave you spinning at the end. There's even a relaxing beach area. If that's not enough, then make the most of Hydromania Rome's other activities, including five-a-side football fields, beach volleyball, and a semi-Olympic swimming pool. be aware most people do not speak english here and it is located out of the center : Vicolo del Casale Lumbroso 200, Rome. Book your tickets in advance it can be super crowdy here!
Throw a coin in the Trevi Fountain!
The Trevi district is one of the oldest districts of the city and one of the most popular with tourists, thanks to its famous monuments, charming roads and squares. Trevi is traditionally divided into a lower part (near the Tiber) and a higher part on Quirinal Hill, where the residence of the President of the Republic is located.
Trevi is best known for its world-famous monumental fountain, but once you get there, you'll discover that in addition to its numerous interesting monuments, palaces and churches, this central district also has several lively shopping streets, cafes and restaurants. There is always a lively and exciting atmosphere in Trevi. The name 'Trevi' is derived from the Latin word 'trivium,' which refers to a square where the original three main roads of the neighborhood converged, between the end of Via dei Crociferi and the square of the Trevi Fountain
This central district is very well connected to the rest of the city. You can get to Trevi by metro (Line A – Barberini stop), or by one of the many buses that stop in Via del Tritone or Via Veneto. You will also find taxi stops in Via del Tritone and on Piazza S. Silvestro square.
Take the Hop on and Off bus to explore the city and take a stop to eat at Eataly.
Want to combine the Hop on and Hop off Bus with a dinner or lunch at an Italian restaurant? Book than this tour. Take advantage of this tour to taste the typical Roman classics and enjoy the 360 degrees view during the busride.
Visit the Pantheon with your family
In the year 27 BC Marcus Vipsanius Agrippa had a temple built on the Field of Mars in Rome. The temple was part of a complex that Agrippa had built after the Battle of Actium in 31 BC. In addition to the Pantheon, the Basilica of Neptune and the Baths of Agrippa were also built. It is not clear what the Pantheon was originally used for, but historians suspect that this temple was dedicated to all gods. The Greek "pan" means "all" and "theos" means "God".
Learn to be a real gladiator at the gladiator school
The Gladiator School in Rome is a modern reproduction of the Castrum (Roman military defense camp) and has a Gladiator Training Camp and a Gladiator Museum. Operated by Gruppo Storico Romano (Historic Roman Group), the Gladiator School allows visitors to master the gladiatorial games of Imperial Rome and understand its history. The two-decade-old school is popular with adults and children alike. At the Gladiator School you will discover what it takes to be an ancient Roman gladiator. You first wear a traditional gladiator tunic and belt and are given a training sword known as a rudis. Then the instructors of the Historic Group of Rome teach you to fight with authentic weapons.
ticket for adults (19+ years): € 25 Youth ticket (13 to 18 years): € 25 Child ticket (6 to 12 years): € 20 Student card (with ID): € 20 Military ticket (with ID): €20
Visitors who have been to this attraction say it was an exciting and interactive way to learn about ancient Roman history, sports and culture. All participants will receive a certificate of achievement at the end of the class. Your friends and family can watch your class from the viewing platform. The Gladiator Training Ticket also grants you access to the Gladiator Museum, where you can view various gladiator weapons and other artifacts. If you don't want to attend the two-hour Gladiator training, you can buy the Gladiator School Museum ticket to see just the displays.
Visit also the Gladiator Museum
Visitors who want a quick experience at the Gladiator School choose the 1-hour guided tour of the Gladiator Museum. A local Roman history expert will take you through the museum, where you can see authentically recreated weapons, shields and other tools from ancient Rome. Visitors can try on the uniforms of Roman soldiers and gladiators and try out their weapons. Don't forget to try out the onager (an ancient Roman catapult) and operate the ram and other weapons.
Visit the incredible Castle Sant Angelo and climb to the top!
I wrote an post about my visit at Castle Sant Angelo not long ago, click here to see how I liked it! On the left bank of the Tiber in Rome you can find Castel Sant'Angelo, better known as Castel Sant'Angelo. Together with the Colosseum, Castel Sant'Angelo is one of the buildings in Rome that is closely intertwined with the city's rich history. During the first years of Castel Sant'Angelo it served as a mausoleum, but many other functions followed after that such as papal residence, barracks, military prison and now a national museum.
To avoid queues, it is recommended to visit outside the high season at Castel Sant'Angelo. In addition, the first Sunday of the month is extra busy and it is not recommended to go to the Castel Sant'Angelo on this day. It is best to visit the castle early in the day just after opening time, or go to the castle in the evening. It is also advisable to book tickets online so that you no longer have to go to the ticket office on site to see the castle can visit. In addition, a visit to the fortress with a guided tour is also recommended.
Visit the fun Cinecitta attractionpark with your kids, they will love it!
Something different than museums and history. Visit Cinecittà World, the cinema and TV amusement park in Rome. In the park you'll find a total of 40 attractions, 6 shows per day and 7 themed areas: Cinecittà World, Ancient Rome, Spaceland, the Far West, Adventureland, the Sognolabio water area and the new Il Regno del Ghiaccio zone. Try out the roller coaster with 10 loops with your kids and Aktium, the water roller coaster. Cinecittà World also hosts films and TV productions, where the public can watch or participate. There are also film previews and numerous special events. Book your tickets already in advance so you can skip the line.
Visit Vigamus, a game museum
The Video Game Museum of Rome (VIGAMUS) is an interactive video game museum that displays the history of video games. Located in a large exhibition center, the museum is divided into different areas of video game history, starting with the Magnavox Odyssey. The collection displays more than 400 pieces of video games and has more than 100 panels with information about the history and background of the items displayed. My son really likes to come here, they also have a Virtual Reality Room! Address; Via Sabotino 4, 00195, Rome
Take a walk through the Jewish Ghetto and stop there for a pizza
Hidden in the heart of the city there is Rome's Jewish Ghetto is a true hidden gem most people do not know about. The neighbourhood is nowdays filled with a lot of cute restaurants with very good food, I can tell! Stop there for a pizza and enjoy the buildings. Afterwards you can also visit the Jewish Museum which is closeby.
Take boat tour over the Tiber River
Another idea to do is taking a boat tour over the Tiber River. This will never bore. Enjoy the surroundings while you are enjoying a drink and a aperitif on the boat. Book here your tickets cause these boat tours are very popular among the locals and tourists.
Visit Villa Borghese, Borghese Gallery
Villa Borghese is a large park north of the center of Rome, an oasis of calm in the busy capital. It is the ideal place to get away from the crowds of tourists who explore the center of Rome every day. There is also a lot to see in the park itself.
Villa Borghese is a super park not only for families, but also for culture lovers. There are several statues and fountains in the park. In addition, the park has several museums.
For Gallaria Borghese you need to book tickets in advance. This can be done online, but also at the museum itself. Please note that the next possibility for reservation is often a few days later. Buy your ticket in advance. This museum is filled with art from the Renaissance. There are three floors that you can visit. On the second floor you will mainly find statues. The third floor is filled with paintings. The first floor is for the cash register, restaurant, shop and toilets. This is the area where you first come to exchange your voucher for tickets. Besides the Renaissance art, there are also exhibitions with modern art, such as currently dresses, which can be found in different rooms.
In addition to what is hanging on the wall and statues in the rooms, it is worth looking up. Even without the placed art, the spaces are richly decorated. Galleria Borghese is the biggest museum of this park but there are also other museums which are ; Museo Pietro Canonica, Museo Civico di Zoologia, Villa Giulia and GNAM.
Visit Museo Pietro Canonica at Villa Borghese Garden
The Pietro Canonica Museum is the house museum of the sculptor Pietro Canonica. The house, where the artist lived until his death, was donated to the municipality of Rome, which now manages the museum. On the ground floor and on the lower floors of the museum are rooms where the works, both copies and originals, by Pietro Canonica are exhibited. The guest room and the artist's office are located on the mezzanine floor. Upstairs are the bedroom, dining room and living room.
Visit Museo Civico di Zoologia
Museo Civico di Zoologia is a natural history museum in Rome that specializes in fauna and its evolution throughout history. The collections include cones, various insects and more than 290 mammal artifacts, some of which are extinct today. Highlights at the museum include the skeleton of a common minke whale, an elephant, and a giraffe. The museum also displays a collection of primate skulls.
After your visit at Villa Borghese play at the playground and picknick afterwards at the 80 hectare public park!
Villa Borghese is a lovely park where you can walk, run or cycle through. There is a lot to do. This is also a nice park for children to go to. Even if it's just that they can get out of here for a while, something that doesn't always happen in a busy city like Rome. There are several rental places in the park. You can rent segways, two to four person bicycle trailers (children can sit in a seat at the front) and go-karts. This allows you to drive through the park for an hour. Don't feel like pedaling? A train runs through the park. In the park is a large pond with a kind of island with a Roman temple in the middle. You can rent rowing boats at this pond. For children there are several playgrounds and play areas with electronic play equipment and a merry-go-round.
Visit Villa Guilia
The Museo Nazionale Etrusco di Villa Giulia is the National Etruscan Museum in Rome, housed in the Villa Giulia built for Pope Julius III. The first rooms of the museum display artefacts organized according to a double principle: topographical and chronological. In addition, the museum contains an epigraphic section, which houses the Pyrgi Etruscan-Phoenician gold plates, arguably the oldest known inscriptions from pre-Roman Italy.
Visit Bioparco the Zoo of Rome
Read a full post of me about my visit to Bioparco here! his zoo offers a lot of room to animals such as elephants, giraffes, tigers, apes and many many more! You can see there all kinds of animals, except fishes. Kids really like this place. Visiting it with a stroller is easy.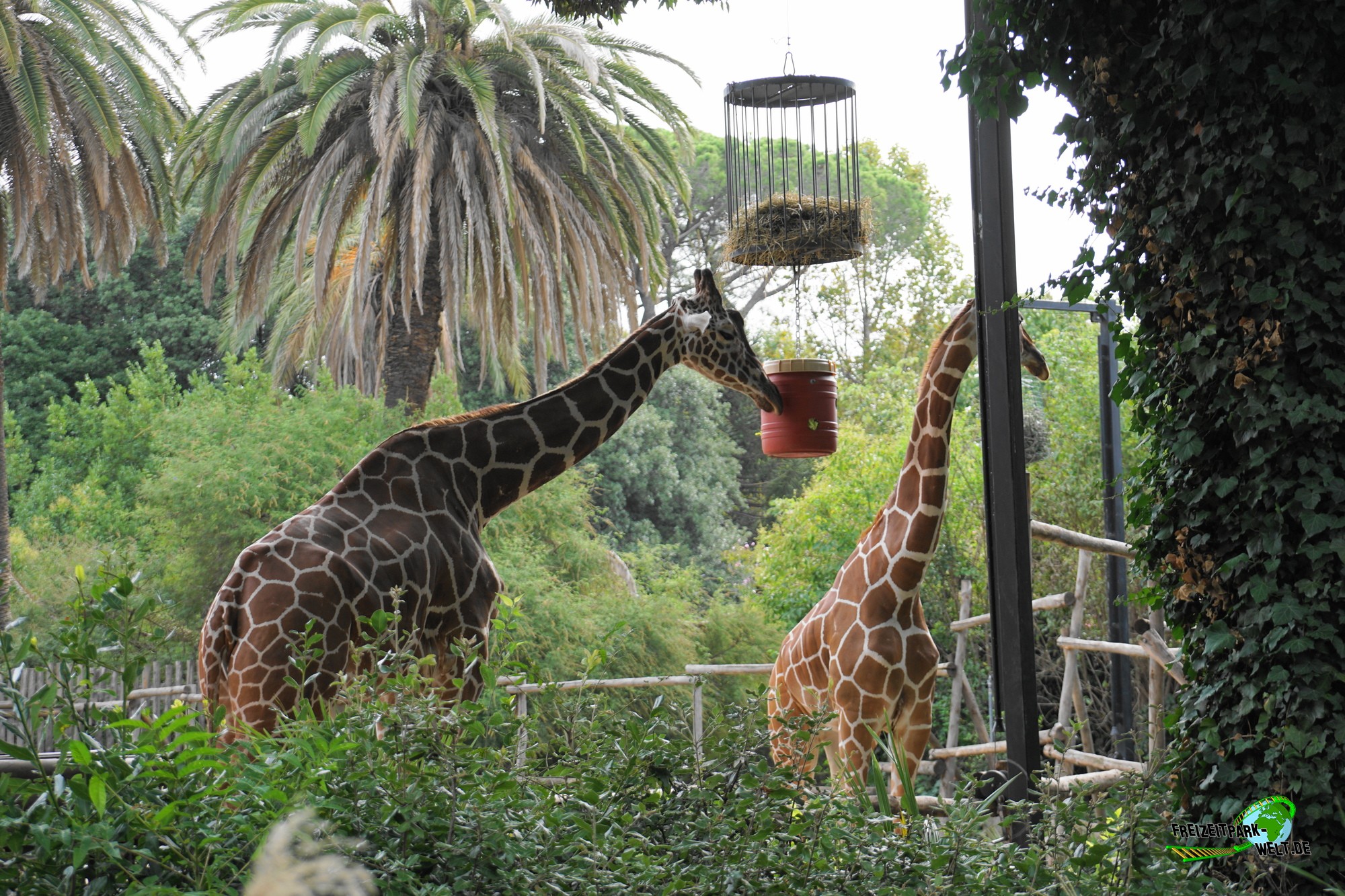 Visit the 8 free museums of Rome
Rome there are eight museums with free admission for everyone:
Wonder what you can do for free in Rome with kids ?
Read my previous post about 10 free things to do in Rome. This list contains visiting St. Peters Basilica, Via Appia , San Clemente and many more places which you can discover with your kids.